So I'm sitting here on the second snow day of a week where I was supposed to return to teaching after a two-week winter break. I'm not exactly upset or stressed about any of that, to be honest, especially since I was lucky enough to not lose power and aside from two large branches that fell off of a tree, there's been no huge damage to anything. Meanwhile in my closet sits the sweater I got for Christmas and was going to wear when we got back on Tuesday.
That was always a weird flex when we were in school, wasn't it–showing off the new clothes you got for Christmas, as if you were reminding everyone of the prowess you displayed back in September when you rolled up to first period wearing what your parents had taken you to buy at the mall at the end of summer. At least, that is, if you were one of those kids who cared about such things that you had to make showing off a priority.
I'd say that this was at its worst when I was in junior high school. Oh sure, it was there in high school, college, and even during my time in the work force, but something about the insecurity everyone was feeling during those years combined with the Lord of the Flies-like pressure to come out on top (in what competition, I don't know) meant that even when you didn't realize it, you were constantly trying to be noticed. I've done enough of a post-mortem on those days to know that there were shirts I wore or stuff that I owned that I was hoping would help me score cool points (again, in what competition, I don't know) but usually went unnoticed or got me laughed at.
So yeah, I wasn't successful at showing off. But I was pretty observant about how people were successful at it, a combination of the right stuff, good timing, and nonchalant attitude. I could acquire the first, might learn the second, but would never have the third. Plus, they'd earned that attitude, emerging in fifth and sixth grade from the primordial sludge into the higher echelons of cliquedom while dorks like me were still completely clueless.
Sounds ridiculous? Well, you have to consider how they'd been practicing almost daily since we were kids. When I think back on my time in the public school system, especially in my hometown, Sayville, kids were always showing off, as my students used to say six or seven years ago, their swag. Let's look at five of them.
The shirt of a "cool" brand with extra points if you were repping a "cool" local business. This started in late elementary school and wound its way through junior high school and may not have applied everywhere, but definitely was a big deal in a town like mine, which had a full-on Main Street and a number of successful local businesses that weren't just gift shops and drug stores. Being that Sayville had one of the three large Fire Island Ferries terminals, we had shops that catered to the beachgoer. One was Summer Salt, which was a store that I guess you could call a "beachwear boutique" and that carried merchandise for just about everyone.
You'd see a few kids in the hall–usually girls–with pastel-colored Summer Salt T-shirts from time to time and they were enough to garner a momentary turn of the head, but I'd say that if you were walking around in a shirt you bought from Bunger–the skate and surf shop on Main Street–then you were a heck of a lot cooler. My hometown had a deep skateboarding and surfing community (that often overlapped) and I'm pretty sure that Bunger (or "Bunger's" as we called it) was where they got their Vision Street Wear and Sex Wax T-shirts as well as the store's own shirts, which at least a few people could be spotted in the hallways wearing. In fact, the store was so cool that I remember there was a painted mural on the wall of the purple side of the junior high cafeteria that showed a bunch of kids hanging out in front of the store's entrance. That's cache.
While Summer Salt went out of business years ago, Bunger is still in town, so for all I know there are kids walking the halls of Sayville Middle School (after 30 years, it's still weird calling it that) in Bunger shirts, perhaps wearing their parents' vintage ones from the early Nineties.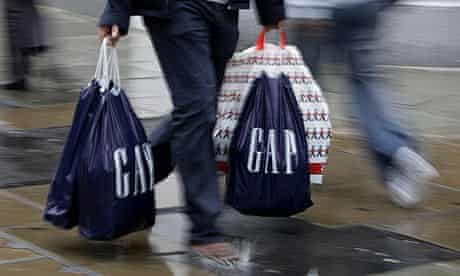 A Gap bag for your gym or swim clothes. Keeping with clothing, Gap was ubiquitous by the time I started junior high school in the fall of 1989 and I don't think I'd stop shopping there until maybe the early 2000s. And man, Gap antique washed jeans are still my favorite jeans of all time. ANYWAY, I'm not talking about Gap clothes here because tons of people went to the Sun Vet, South Shore, or Smith Haven malls for school clothes; I'm talking about the navy-colored plastic drawstring bag with "Gap" on the front. On the days when you had to bring a change of clothes to school–you were switching out the stank-nasty mess that was in your gym locker or your gym class was at the junior high pool that day (yes, we had a pool at the junior high and there was a swimming unit in gym class … it's still too traumatic for me to write about)–you peacocked a little by bringing those clothes in one of these bags.
And by "little", I mean that this was a minor flex, a reminder that you fit in, even though the reason you brought the bag with you was because your parents had the bag lying around the house and it was sturdy enough to endure being dragged from classroom to classroom while containing a damp bathing suit and a towel. Plus, you could tell that a person walking around school with a Gap bag was trying to show off by the way they carried it, making it incredibly obvious. And yet? That shit worked for some people (read: people who weren't me).
A Friendly's bag for your lunch. Speaking of bags that were flexes, this went as far back as elementary school in the Eighties. Sayville has a Friendly's and that place has been in business for at least the 44 years I've been alive, and unless that company completely goes under, I can't imagine it ever closing. Too many post-school function sundaes were eaten there in my lifetime and I've had more than a few fateful meals with friends and girlfriends there (when, that is, we weren't at a diner). But back in the day before the chain's ice cream was available in supermarket freezer sections, Friendly's (which was still just "Friendly") did a steady take-out business. You could walk in, grab a rectangular half gallon from the self-serve freezer, pay, and leave. Sometimes, your parents even sprung for hot fudge (which was freaking amazing). When they bought the ice cream, the person behind the counter put it in a thick paper bag with "Friendly" on front. And since that ice cream was going in the freezer when you returned home, you could ask your parents to pack your next day's lunch in the Friendly's bag and not your lunchbox. Oh sure, that Voltron lunchbox was mint, but a Friendly's bag? People noticed.
Drawing the "S" correctly. You know the "S." We all know the "S." Believe it or not, even my students know the "S." Now, it's not really hard to draw the "S", but you'd be surprised at how easy it was to screw up, so that meant the really cool people could draw it really well.
This drawing is an old graffiti-style S that was, at one point, incorrectly attributed to the Stussy brand (and some will tell you was a Stussy logo at one point, although I think that's some sort of Berenstein/stain Bears Mandela Effect stuff), and was everywhere throughout the country's schools back in the day. That's pretty amazing considering that the Internet didn't exist and it wasn't something in a television show's logo. It was just … all over the place.
That being said, it was really popular to draw on notebooks and binders where I grew up because the name of the town was Sayville and people would basically draw the "S" and "ayville" after it.
Because of course we did.
I think the "S" was passé by the time high school rolled around, and I saw more people writing the logos of bands they were into on notebooks, desks, or lockers than the ubiquitous character. But I'm sure that if you asked anyone from my generation to draw it from memory, they could do it in a heartbeat.
The Bic four-color pen. Need I say more? If you had this in elementary school, you were a god. Bic introduced this pen–a retractable pen where you could choose between blue, black, green, and red–in 1970 and it was still going strong through the Eighties (and still is–you can buy them on Amazon). These were especially powerful before the fourth grade when we were mostly using pencils to complete our work and hadn't transitioned to pens.
Someone having this in class was as if they'd brought a toy to school. Everyone wanted to try it. Furthermore, it brought a new dimension to pen fidgeting because you weren't just clicking the pen on and off, you were clicking between four colors. And like I said, we were all still using pencils, so having a pen in, like, the third grade was so cool.
These may not exactly be Lacoste sweaters, Gucci bags or rolling up to the first day of your senior year in a brand-new BMW, but they definitely did their job, and if I remember, I'll try and notice what my kids are doing.